Caribbean crewed yachts
Imagine island hoping aboard your own private yacht. You may be celebrating a honeymoon, anniversary or special birthday or just want to relax.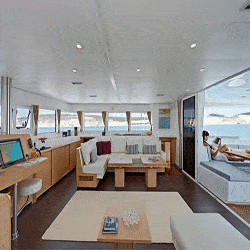 While chartering a yacht in the Caribbean is undoubtedly the ultimate for a romantic honeymoon or wedding anniversary, many families find this a wonderful holiday for all ages. These plenty going on and you can join in the sailing if you want, or just sit back and relax.
Sailing yachts are very popular and just a couple of hours sailing will take you from one idyllic anchorage to the next. Catamarans offer stable cruising, masses of space on deck and several equal cabins, making them ideal for families and larger groups. We also offer a couple of very comfortable crewed motoryachts.
Each yacht has professional crew who are first class sailors and guides to the islands, not to mention congenial and interesting hosts. The chefs excel at fine cuisine and your charter includes all meals onboard - a full breakfast, light lunch, hors d'ouevres served with cocktails, and a 3-course dinner.
Sailing in the Caribbean
With so many tropical islands to explore, sailing has to be the best way to discover the real Caribbean. Anchor off your own white sandy beach. Dive into warm turquoise seas to snorkel among the rainbow colours of a coral reef. Relax with a rum punch sundowner on the deck of your yacht while you watch another glorious sunset.
Come and see for yourself why the BVI is the most popular area in the Caribbean for sailing holidays. Perfect sailing conditions and sheltered passages round the islands make the BVI a delight for everyone who wants to relax in a Caribbean paradise with white sandy beaches and amazing snorkelling in warm, crystal clear seas.
Crewed yachts are also available from St Martin, Antigua, St Lucia & Grenadines.
DAY 1 : Easy reach to Norman Island (8nm), home of the Caves and inspriation for Robert Louis Stevenson's "Treasure Island". The Bight provides a perfect anchorage with a restaurant and floating bar aboard "The Willie T".
DAY 2 : As Salt Island grab your mask and snorkel and check out the wreck of the Royal Mail Steamship "Rhone" which sank during a hurricane in 1867. After lunch sail "right next door" to Cooper Island (8nm) where you can pick up a mooring in front of the beachfront restaurant.
DAY 3 : The Baths at Virgin Gorda are one of the most famous natural formations in the Caribbean. Huge granite boulders form small grottos and pools on the water's edge for you to expore and snorkel. Sail up to North Sound (13nm) a protected bay with a wide choice of anchorages and excellent restaurants.
DAY 4 : Snorkelling on the reef at Marina Cay gives you an appetitie for lunch. Trellis Bay (10nm) is a good place to spend the night, home to the famous restaurant and cabaret "The Last Resort".
DAY 5 : Cruise up to Guana Island for spectacuar snorkelling and a beach picnic at Monkey Point. An afternoon's sail west takes you to Jost van Dyke (15nm). Anchor in White Bay and swim ashore for cocktails at "Soggy Dollar Bar" or in Little Harbour where "Foxys'" is famous for its beach parties.
DAY 6 : Lunch at Soper's Hole Wharf, home of Pusser's Landing, reputedly built on the hideout of the pirate Blackbeard. Afternoon sail across Sir Francis Drake Channel to Peter Island (11nm).
DAY 7 : Watch the sunrise over Peter Island and take an early morning swim in the deliciously warm sea. Weigh anchor for the short sail back to the marina (5nm).
Crewed yachts in the Caribbean
There is an excellent choice of crewed yachts and catamarans in the Caribbean and we are happy to suggest a yacht to suit you. Here are some of our favourites.
Sayang
Perfect for a family holiday.
Sayang is a Jeanneau Sun Odyssey 54DS sailing yacht. Built in 2005, she is air conditioned throughout and maintained in an immaculate condition for your maximum comfort and safety. Sayang is operated by a skipper and hostess who are multilingual (English, French, German and Italian) and have professional backgrounds ranging from marketing management to teaching music.
Cruising area: British Virgin Islands.
Accommodation: 2 or 3 double cabins. The 2 forward double cabins can be combined to form master cabin with ensuite bathroom. The aft cabin has ensuite bathroom and can be 1 double bed or split into 2 twin berths.
Sports & leisure: Kayaks, snorkel gear, waterski/kneeboard, CD/ipod.
Prices from £1643/person/week based on 6 sharing including all meals onboard and standard bar.
Click here for more information on Sayang
---
Foxy Lady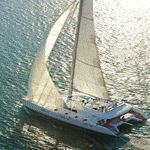 Luxury catamaran in paradise...
A luxury 62' catamaran with 4 guest cabins featuring queen size beds with ensuite bathrooms. Fully air conditioned throughout.
Cruising area: British Virgin Islands.
Accommodation: 4 cabins with queen beds, all ensuite.
Sports & leisure: Waterskis, kneeboard, wakeboard, windsurfer, SUP, snorkel gear, dinghy with 70HP engine, 2 kayaks. Satellite TV, Apple TV, DVD, CD, Wi-fi access.
Children: welcome.
Prices from £2845/person/week based on 8 sharing including all meals onboard and standard bar.
Click here for more information on Foxy Lady
---
Breanker
Superb cat for 8 people
Luxurious 55' catamaran with 4 equal double cabins and so much deck space and a huge saloon.The experienced crew are sailing and watersports enthusiasts. Fully air-conditioned.
Cruising area: British Virgin Islands.
Accommodation: 4 spacious equal-sized cabins with queen size beds, all en-suite
Sports & leisure: 6 sets of SCUBA gear & 12 tanks, waterskis, kneeboard, kayak, fishing tackle, snorkel gear, dinghy with 40HP engine, TV, DVD,CD.
Children: very welcome.
Prices from £1705/person/week based on 8 sharing including all meals onboard and standard bar.
Click here for more information on Breanker
---
Prices for crewed yachts in the Caribbean
There are many crewed yachts in the Caribbean so please ask us to recommend one to suit you. Prices are for the exclusive use of the whole yacht for 1 week and include all meals onboard - full breakfast, light lunch, hors d'oeuvre with cocktails and 3-course dinner. Bar is included in the British Virgin Islands (except vintage wine and champagne). Elsewhere in the Caribbean the bar is charged as an extra. Crew gratuity is customary for excellent service and 15% of charter fee is the guideline.