Sailing Journal - Athens to Rhodes
Athens-Rhodes
Holiday details: Bavaria 38 (3 cabin layout) "Silver Moon" on a bareboat charter one-way Athens to Rhodes.
Supplied by Chloe Shilling, Nautilus Yachting
Day 1 - Arrival at Kalamaki Marina
20 June 2010
We arrived at Gatwick airport for our 9:30 am Easyjet flight extremely excited about starting our sailing adventure. We got to Kalamaki Marina about 5pm. During the check in our provisions arrived. Dinner was at the Edem Restaurant where we had all our favourites – calamari, saganaki, fried zucchini and a Greek salad and a carafe of white wine. Then we relaxed on the boat excited about starting sailing the next day.
Day 2 - Kalamaki Marina to Sounion Bay 25nm
21 June 2010
After a good night's sleep we got up early so we could get to the supermarket before heading off. We stocked up with all the essentials and prepared the yacht. There was very little wind this morning so we pottered along slowly. After a Greek salad for lunch the wind filled in to a very pleasant force 4 so we got to Sounion Bay by about 3:30 with plenty of time to enjoy our first swim. Sounion is a beautiful quiet bay with a magnificent view of the temple of Poseidon which was built in 444BC. Very windy in the night.
Day 3 - Sounion Bay to Serifos 40nm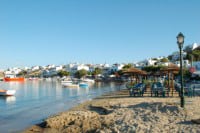 22 June 2010
The next morning we set off early so the anchor came up at 8 am but a different shape to when it went down the night before. It had obviously been firmly in when we were being blown about in the strong winds last night. We set the chart plotter and headed for Serifos. We had an amazing sail in force 6 most of the way with big seas. We surfed the waves and managed to get the yacht doing 9.5knots. What made the trip extra special was the huge number of dolphins that played in our bow wave. We stopped in a little bay on the west side of Serifos to eat lunch and have a swim. We then headed round the headland and anchored in a beautiful nearly landlocked bay covered in tamerisk trees. We had a wonderful meal in Serifos about a foot away from the water's edge. We walked back along the lovely sandy beach and had a really nice long sleep as the bay was so calm.
Day 4 - Serifos to Paros
23 June 2010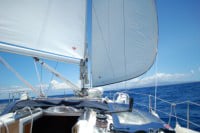 We set off for Paros and it was a wonderful sail downwind all the way with a force 4 -5 wind. We tried to moor on the outside of the concrete pontoon (the only place left) but even after 2 attempts it was obvious our rather bent anchor was not holding and it was very rough. George from Kiriacoulis Paros was with us within half an hour and showed us a much calmer place to moor on a lazy line. Another chap from Kiriacoulis showed up with a nice shiny new anchor and it was fixed within minutes. To make our evening complete we had shore power so charged everything up and got the fridge really cold.
We had a lovely meal out in Paros. There was a huge range of restaurants along the water front, most with a beautiful view of the bay. We ate in the oldest restaurant in Paros called Hibiscus where they baked traditional Greek dishes in an outdoor wood oven.
Day 5 - Paros to Ios 30nm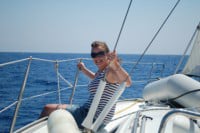 24 June 2010
In the morning we got provisions and found a fishing shop so Paul could get some hooks. We had 2 options leaving Paros - we could either go the long way round the island (+20nm) or go through the very shallow channel between Paros and Andiparos. We made it through the channel ok and it was a very good short cut! We had a quiet passage to Ios as there was not a breath of wind so we had to motor all the time. We arrived in Ios mid afternoon. Ios is a little town mainly occupied by backpackers and famous for its beautiful nudist beaches! We cooked a meal onboard and sat up on deck and watched the world go by.
Day 6 - Ios to Thira (Santorini) 35nm
25 June 2010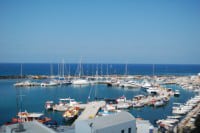 As soon as we went to bed last night the rain started like I have never seen rain before - it was like a monsoon! Luckily it finished about 7am and left clear blue skies. Paul went out to get a couple of provisions and we watched a huge old classic J leave harbour. We has a lovely sail in forces 3-5, downwind all the way. It was quite incredible sailing into the crater of the volcano at Thira (previously known as Santorini) and seeing all the volcanic rock. There is nowhere to moor overnight in the tiny harbour below Santorini town so we went right round to the other side of the island and moored in Vlikhada marina. As it was the safest place to moor on the island it is very popular and we ended up racked 4 boats deep on the quay next to some very friendly Greeks. A local restauranteur told us the bus into Santorini town only costs about €2/person and there was one leaving from outside his restaurant at 10:30 the following morning. As he had been so helpful we ate in his restaurant.
Day 7 - Thira (Santorini)
26 June 2010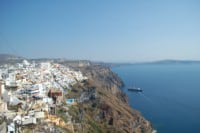 We decided to move the yacht as we were planning on leaving her in the harbour all day and didn't want to block anybody in. We moved further up the quay and manage to get shore power so we plugged in and headed to the bus stop. It was a smart air conditioned coach and the journey, which took us around the island, took just under an hour. We explored the beautiful little streets of Santorini and although we are completely hooked on sailing, it was lovely having a day off doing something different. We had a light lunch in a little restaurant with a great view. It was extremely hot especially as we were used to the cool sea breeze while sailing. We had a final drink in another beautiful bar and then headed back to the yacht on the other side of the island. The last bus is at 16:30 so we got a taxi back which only took about 20 minutes. We caught some fish and cooked them up for dinner - they tasted great as they were so fresh!
Day 8 - Thira to Anafi 30nm
27 June 2010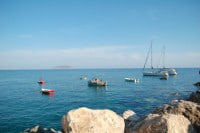 Although we enjoyed our day off we were looking forward to sailing again. However the Cyclades today looked more like a mill pond as there wasn't a breathe of wind so we sailed slowly to a bay on Anafi for a swim. It was a lovely journey and again we didn't see a single other yacht - it felt like we were the only people in the world. Dolphins joined us for part of our journey. There are beautiful yellow sandy beaches in Anafi so we anchored in a deserted bay and went for a long refreshing swim and a nap. We then motored 2 miles round the corner to the very tiny village of Anafi where there was one other English yacht. We anchored and took a line ashore. We managed to get an ice cream onshore and had a walk along the beautiful beach. We had a lovely supper onboard and a nice calm night so slept well.
Day 9 - Anafi to Astipalia 42nm
28 June 2010
We left at 9am and sailed for Astipalia - a beautiful sail downwind all the way. We went stern to at Asipalaia. It is a really pretty place with a very friendly atmosphere. The town has some nice little shops with some pretty and unusual things to buy. There is a selection of restaurants and we had one of our best meals - Greek food but slightly more unusual versions. We had a starter of feta cheese which has been fried in honey and sesame seeds which was incredible. Astipalaia really is a place not to be missed!
Day 10 - Astipalia to Kardimina, Kos 45nm
29 June 2010
In the morning we went out for a coffee and orange juice, so we could enjoy this lovely little town for a little longer. We left about 10 am and had a beautiful 45nm sail in about a force 4. We decided after spending most of the holiday in very sleepy little Greek villages we would head to Kardimina on Kos for a more lively night. It is quite a difficult harbour to get into as the entrance is extremely narrow with drifting sand. We crept in slowly and moored up safely and enjoyed a celebratory drink before hitting the town. We went out for dinner and look around the very touristy shops and then settled in the cockpit of our yacht with a bottle of wine to watch the party goers until the bars closed at midnight and the harbour became peaceful again.
Day 11 - Kardimina to Pathi, Simi 50nm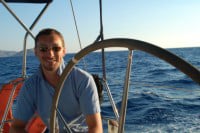 30 June 2010
In the morning we headed off to the supermarket for provisions (it was the cheapest by far for the whole holiday). We very carefully slipped out of the harbour through the shallow entrance. We had a beautiful sail down the coast of Turkey. The wind started at about a force 2 but soon built to a 5 or 6. Quite a swell built which was fun and we goose-winged nearly all the way at a speed of 7-8 knots. We sailed over to Pethi a bay on the island of Simi and dropped our hook in a lovely little bay and had dinner onboard.
Day 12 - Pethi to Simi Town 7nm
1 July 2010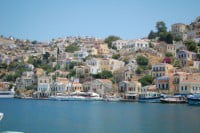 Today was my birthday. It started with waking up in an idyllic bay and going for a swim off the yacht. We then did a short sail round to Simi town. The architecture is beautiful and definitely a place not to be missed. We moored perfectly first time and enjoyed a walk around the town looking in all the local shops. Afterwards we went back to the boat for lunch. We had already booked a table for dinner at Mythos Meze Harbourside restaurant on the Southside of the harbour. With the meze menu they keep bringing you different things until you say stop. We started with the chef's salad sprinkled with walnuts, then seafood risotto, grouper with ginger, sea bream with salsa verde, mousse of aubergine with tzaziki topping, moussaka, chicken in gorgonzola sauce, pork in apple sauce, lamb in rosemary sauce but at this point we admitted defeat and asked for the puddings which were chocolate mousse and the lightest ever lemon cheese cake. 11 courses in all which we thought wasn't a bad effort. Overall a rather lovely birthday!
Day 13 - Simi to Rhodes Town 25nm
2 July 2010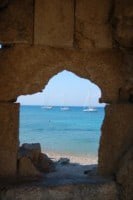 It was a beautiful sight leaving Simi, the architecture really is quite incredible. We had a beautiful sail down towards Rhodes. As usual a nice easterly downwind sail with a force 4 blowing and we goose-winging most of the way. We arrived in Rhodes about 3pm and manovered around some huge ferries and cruise ships and came in perfectly to a spot Kiriacoulis had reserved for us. We met the Kiriacoulis base manager who was incredibly helpful and friendly. We headed into Rhodes Old Town to experience it at night which was great fun as it really came alive.
Day 14 - Rhodes Town
3 July 2010
Our flight wasn't until the evening and we had booked the yacht until 9am Sunday so that we could have it as our base for the last day. We packed early and then did our very thorough check out with the very friendly Kiriacoulis team. We went to the main beach in Rhodes and hired sun loungers and an umbrella to relax on the beach. It was lovely still having the yacht as it meant we could go back and shower and change before heading for the bus stop. The bus cost €2.30/person to the airport which is about 20 miles away - it was very easy and took about half an hour.
We ended up doing 354 nautical miles and each of them was wonderful and an experience we will remember forever. The Cyclades offers great winds. It was very unspoilt and we loved not seeing any other yachts for most of the journey and lovely traditional Greek villages to visit that weren't overrun with tourists. Overall our best holiday yet by far and we can't wait to go back!