Charter a yacht bareboat for total freedom.
Set sail on your own voyage of discovery . . .
"Bareboat yacht charter" means you charter a fully equipped yacht without a professional skipper and crew. If you have sailing experience you can board your sailing yacht in any of our glorious holiday destinations and sail away! The yacht is yours for the holiday to explore the sailing area at your own pace. Enjoy the unique experience of holidaying aboard your own yacht - it's the ultimate multi-centre holiday without the packing and unpacking!
Do what you want when you want . . .
Being the skipper of your own sailing yacht gives you total flexibility every day. You'll enjoy a privacy and freedom that's hard to find in a hotel. Set sail for a different destination every day - without the clouds and crowds of the Solent! There's always another bay, another harbour, another island to explore. And when you arrive, step ashore for dinner in a waterfront taverna. You'll be supporting the local community and you'll feel like a traveller, not a tourist.
It's excellent value and so convenient . . .
Your yacht provides self-contained accommodation with plenty of cabins for everyone. Every night you'll enjoy being in the best harbourside location or in your own secluded anchorage - a different place to discover every day. All the yachts have a fridge and cooker onboard and self-catering for breakfast, lunch and drinks helps keep the costs down. At night, party animals can hit the local bars or you can chill out with dinner in a taverna on the water's edge.
Where in the world can I charter a yacht?
We offer sailing yachts for bareboat charter through the Mediterranean and Caribbean. We also offer sailing yachts in more unusual destinations in the Atlantic and Baltic and in more exotic Tropical destinations. Choose the sailing area to suit your experience - there's plenty for all levels of sailors. You may want to return to a favourite cruising area or discover somewhere new on your yacht charter holiday.
For yacht charter you should have previous skipper experience to Day Skipper standard, gained by sailing in the UK or on a previous yacht charter or flotilla sailing holiday. You should be competent at handling a yacht in close quarters, anchoring and mooring in varying conditions, and be able to use your navigation and pilotage skills to plan a day passage and know your position at any time. You should be assisted by at least one competent crew.
The port authorities in Croatia, Mallorca, Tenerife and Malta require an internationally recognised certificate of competence for the skipper, eg RYA International Certificate of Competence (ICC) or RYA Day Skipper Practical.
The RYA ICC will be ever more required by overseas port authorities but if you have skipper experience it is easily obtained in a day from RYA sailing schools in the UK such as Hamilton Sailing or Brixham Sea School
In Greece, Turkey and Croatia you have a choice of bareboat yacht charter or flotilla sailing holidays, providing maximum choice at all experience levels.
If you want to brush up your skills on flotilla or gain an RYA sailing qualification, book a Learn to Sail holiday.
Add a skipper to any of our bareboat yachts if you don't have the experience to charter bareboat or if you would like a helping hand with a larger yacht or a guide to a new cruising area. The skipper will be a competent local sailor and perfectly capable of sailing the yacht. He will encourage you to get involved as crew, although he is not an instructor. You will have to allocate a cabin for the skipper's use and provide him with food and drink.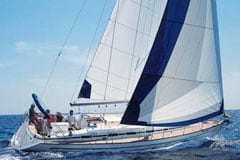 We have an excellent selection of quality sailing yachts for bareboat yacht charter ranging from 30' to 52' including all the well-known names, Jeanneau, Beneteau, Dufour and Bavaria. Most are less than 4 years old and many are brand new models. In some cruising areas we can offer spacious owner's layouts with master cabin.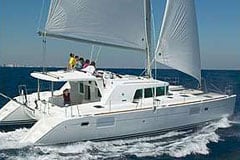 Catamarans offer plenty of deck space and a large cockpit, ideal for relaxed sailing holidays. The saloon, with its panoramic windows, is spacious and airy. Even if you haven't sailed cats before, you'll be impressed by their easy handling. Cats are very popular in Turkey and the Caribbean where you spend most nights on anchor rather than on a crowded town quay or marina.
All our charter yachts are fully equipped for cruising in comfort and have full safety, navigational and domestic equipment.
On arrival at your charter yacht you will be given a technical briefing on your yacht and cruising area. We do recommend that you check your yacht carefully before you leave the marina as things can so easily be put right at the base.
Once you have left the base you are given contact numbers for the base, including emergency out-of-hours telephone numbers so help is just a phone call away at any time. Usually the base manager will arrange for repairs to be done in your nearest harbour.